About us
                                                                                     
ABOUT US
We are an incoming travel agency with many years of experience aimed to facilitate the mission of other international tour operators in Andalusia  and Morocco.
Unlike other tour operators that only offer accommodation and tours, we enter into your idea of the ​​trip. Offering a full range of services; from luxury vacations to adventure travel and cycling in Andalusia, caravans in the desert and trekking activities and free time. Let us know your needs and we shall turn them into reality!
We offer a wide variety of activities and experiences for receptives and groups during ours tour of Andalusia and Morocco in order to share the essence of our land, its history, its beauty, its flavors and culture. Our specialty is cultural trips and we have extensive experience in this field, Where? In an area that for years was called Al Andalus, which today covers Spain and Morocco.
Our itineraries and travels through Andalusia and Morocco are tailored to the needs of each client, having in consideration what could interest you depending on your plans.
WHO WE ARE ?
We are a major travel agency specialized in trips to Andalusia and Morocco, founded in 2003 , with offices in Seville and Tangier.
Our agency is composed of a high qualified professionals with years of experience in the field of tourism generally then in Andalusia and Morocco particulary .
Our main goal is to provide professionalism, experience , and advice to make successful your experience in Andalusia and Morocco . We design, plan and organize with you and for you : Congresses, Meetings and Incentives , Special Events , sporting events and we provide excursion  cruises, and support for  tourist groups.
Since December 2014 we have moved to Nervión (Seville), below are the details
Our Team is formed by :
Berta Perales

A true Sevillan , licensed in modern and contemporary history ; gratuated from the University of Sevilla and has a Master degree in European Relations, Berta manages the department of group tours organization at Viajes Calin. She also has charge of putting an advertising plan and keeps the site updated with information about our tours and excursions.

 

Pepe Moreno Calín

A native Sevillan with a diplome degree in business studies, Pepe is the founder and director of Viajes Calin. Pepe lived in Morocco for a few years before returning to Sevilla . to him ; Morocco is like a second home. He accompanies almost all of our groups that travel there and hand picks out the hotels, riads and sites that we visit along the way.

 

Miriam Cruz

Also born in Seville , Miram has a diplome degree in turism from the University of Seville. She is one of the first members of our team here and she always glade to help you with any issue or concern that may arise during your tripe with us.

David Roldán

A Sevillan that passionated by the cultural and flok traditions . He is our trade responsible ; works with Miriam closly to provide the best professional management and orgnization of your trips.
Why travel with Andalusía Incoming Services?
Because Calin Asesores de Viajes has been a trusted name in the travel world dedicated to providing your travelers with the most positive and unforgettable experiences while abroad.
Our incredible excursions throughout Andalusia, Portugal, & Morocco provide travelers with the opportunity to not only discover never before seen places in the world, but experience them in a way never before imagined.
Our guides share their love of exploring as well as their vast wealth of knowledge to ensure that you get the most out of your travels – and they do it all with a friendly smile. We take care of every little detail so that you can enjoy your travels without a worry or care.
Our excursions specialize in showing the most beautiful destinations and offering the finest services, hotels, restaurants, and activities; our long-standing connections with local businesses throughout Spain, Portugal, and Morocco allow us to provide you with exclusive opportunities incomparable to any other agency in the industry.
The happiness of your clients  is our number one priority and we are committed to making sure that you return from each trip absolutely blown away by the time you had. We promise to make each travel, each day, each laugh, and each experience the best one yet.
Organizitional CV
We would be pleased to send development and curatorial staff sample itineraries, testimonials and references for consideration.
These are some of our clients for whom we have organized events.
Brauer Museum of Art . Indiana. May 2000
The Fogg Art Museum. Harvard University. Massachusetts . May 2001
Museum of Fine Arts , Boston. November 2002 and 2011
The Colonial Williamsburg Foundation. Virginia . March 2004
Chief Executive Organization. Maryland . October 2005
The Art Institute of Chicago. May 2007
The Smithsonian American Art Museum. Washington . March 2008
University of Jaen. June 2008
Ace Study Tours. Cambridge.Desde November 1999 to the present.
Office in Seville :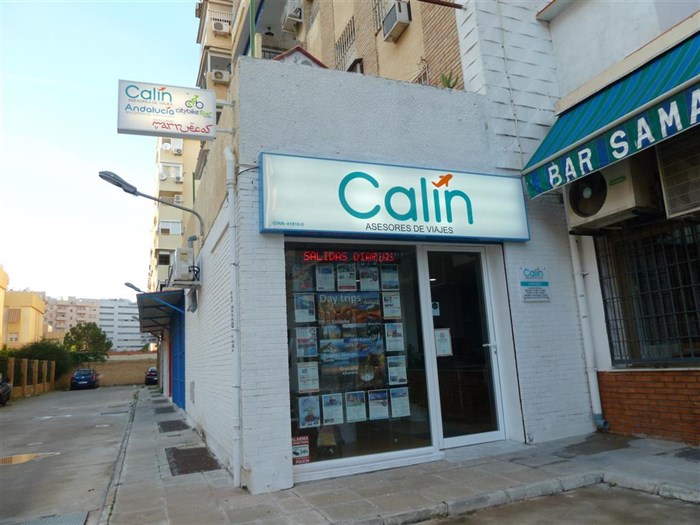 ADDRESS: AVIÓN 4 VIENTOS ST. Nº 14 LOCAL C. 41013 SEVILLA
Phone:+ 34 95 422 42 41 & +34 666 578 549 Fax: +34 90 252 05 38
Schedule :
Monday through Friday 10:00 hrs to 14:00 hrs and from 17:30 hrs to 20:00 hrs SATURDAY CLOSED .
How to get to our new office :
Metro : Apeadero de San Bernardo
Bus: 38A , C2 , 22, 29 , 25, 26 , A5 , 28 , 52
Very easy from Apeadero de San Bernardo Street go through Avión Cuatro Vientos ST, which is along the university by the left and at the end of the street it is right at the back of the building , back of Bar Samaniego. From San Bernardo to the agency less than 10 minutes walking.
Comercial name: Calín Asesores de Viajes.
Travel Agency licence number. CIAN 41810-3
Hispanophile Travel Agency S.L.
CIF B91282848
Social address. Avión Cuatro Vientos Street no 14, Local C. C.P. 41013.
Companies registry in Seville, Tomo 3.694, folio 111.